What makes your streaming content less enjoyable?? Probably the small screen of a mobile! You can Switch to Bigger HDTV through the screen mirroring option. Check out if your mobile supports this feature or not.
Does Screen Mirror work without wifi? Can you beam your favourite videos from mobile to TV screen without wifi.? What to do when you want to play Android games on TV with no internet connection? 
Read this post to have detailed insight into the topic: screen mirroring without wifi.
Depending on the technology, a mirror screen without wifi is possible. However, it can be problematic most of the time. To get better results, you need a wifi connection for this procedure. It is only possible when the technology of both sending and receiving device support mirroring technology.
Unfortunately, the iPhone does not support this technology. In order to cast without wifi, you can use Miracast, Chromecast and Screen Beam Mini2.
Keep reading till the end!
What is Screen Mirroring and How It Works
Screen mirroring or casting is a procedure that allows sharing the content from the smaller screen (tablet, smartphone, laptop) to the bigger screen ( TV, projector, a monitor).
Mirroring Vs Casting – Both terms are used interchangeably but they are different. In mirroring, content is transmitted to the big screen via cable or wireless connection. While in casting, the online content is transmitted through multimedia players to TV projectors and monitors via wireless connections.
Nowadays screen mirroring technology has changed significantly. The best method varies with the model, age, manufacturers of your TV, projector, smartphone and other devices.
There are so many apps with the built-in option of screen mirroring like YouTube, and Netflix. If you are using casting devices for mirroring, you need to connect your account for that app to the casting app in order to mirror.
Can You Screen Mirror Without Wifi: Possible or Not?
Curious to know if screen mirroring is possible or not without wifi? YES, it is possible, but better results need a wifi connection. For this, a TV or casting device needs to support the screen mirroring function.
Screen mirroring without wifi use technology like Miracast. In this technology, a direct connection is created between the sending device and the receiving device. This connection is actually a wireless display. For this reason, no wifi is needed to mirror your phone screen on a smart TV.
Why You Need Internet Connection for Screening Mirror
Do you need the internet all the time for screening? No, you may not need it when you are casting images and downloaded content. But you need it when you are doing three activities given below:
You need a Wifi connection when you want to screen video streaming
Wifi is essential when you want to screen web content
Wifi is needed for screening live streaming programmes also
If you say you don't need wifi for screening, it means you have alternative technology. Moreover, your sending and receiving devices both are supporting this alternative technology.
How Can You Screen Mirror Without Wifi: 3 Ways
There are three ways to mirror your screen without using wifi. You can use technologies like Miracast, and Chromecast for this purpose. The results are not as perfect as you may get using wifi. Still, the possibility is here. Let's check out how these three ways work:
1- Use Miracast
Miracast is a wireless standard display. It is specially designed to mirror mobile, tablet or computer screens on TV without using HDMI cables and other internet wires It works like a wireless HDMI cable. It is said that it will one day replace the need for a physical connection between two sharing devices.
This system operates in window 8.1, old and new Androids running on 4.2. ITs po[pularitui is increasing day by day/. Microsoft has started selling two of their own Miracast receivers, namely.  Microsoft Screen Sharing for Lumia Phones (HD-10) and the Microsoft Wireless Display Adapter. Moreover, Amazon Fire TV comes with built-in Miracast streaming with their new Fire TV Stick. You can download Miracast for Android for free.
Pros
Ensure direct connection between sending device and receiving device without wifi
Good alternative of HDMI cables
Cons
Many devices don't support Miracast
Don't offer smart competing protocols
Problematic most of the time
 
2- Use Chromecast
Google Chromecast is a plug-in device that can mirror your mobile screen on TV without wifi. It can turn your TV into smart TV like Amazon Fire Stick and Roku. Typical, it needs wifi for connectivity. But you can cast all of your favourite content even without wifi.
See HOW?
You can use Chromecast without wifi using Guest Mode on Google Home App. As the name suggests, this feature was originated for guest to access Chromecast without using the private wifi network.  The latest model of Chromecast come up with built-in wifi signals.  To find out if your Chromecast has Guest Mode, follow the steps:
Open Google Home App from mobile
Tap the name of the device
Click the Setting button in the right corner
Scroll Device Setting and search for Guest Mode
If the PIN is not written underneath the Guest Mode, Enable it and click On
Pros
It can cast phone, computer and tablet screen
Easy to carry during travel
Get control through phone
Cons
No usage of remote control
Sensitive material that others can't use
3- Use ScreenBeam Mini2
This is a plugin device made for wireless display. It offers a good alternative to HDMI cables. No wifi connection is required for its operation. It is the perfect device for in-home use and on the go. It does not require app or subscription fees.
This tiny ScreenBeam Mini2 device is very simple to use. You need to connect the adapter to an HD TV. After three simple steps, you will get connected. It supports up to full 1080p30 HD video and high-definition audio. The wireless receiver in it will plug into plugs into your big screen's HDMI port. As a result, your mobile device is automatically connected
Pros
Cost-effective
Portable and easy to carry
No choppy or freezing video
Cons
Does not work on iPhone
Not compatible with older Kindle Fire HDX
Screen mirroring without Wifi On TV
There are a number of ways to mirror the screen on TV without Wifi. Though the connection depends on various factors:
Model Of TV
Functions OF TV
Smart TV or Old TV
Below are a few popular ways to cast screen on TV:
Use Miracast
Use Chromecast Device
If you want to play Android games on the TV screen, you can use both. You can read the detailed description in the above post.
This Vizio 24-inch smart HDTV comes built-in Chromecast for screen mirroring.
Screen mirroring without wifi on iPhone
As we know Android and iPhone are a bit different. iPhone apps are under the strict control of Apple. There are 2 possible ways of screening mirror iPhone on TV without wifi :
Use Apple Digital AV Lightning Adapter
This method is the easiest method of casting the iPhone screen on TV without wifi. To do this, you need to buy an apple digital AV lightning adapter that supports mirroring. All you need to do is just plug in this white adapter at the bottom of the mobile charging port.
Connect it to any HDMI display nearby. This adapter has an extra port for charging mobile devices. Although it's expensive but easy to carry when you travel.
Use Peer to Peer Airplay
This method can be used with devices capable of receiving Airplay broadcast.
 It does not require any physical connection or HDMI for mirroring. This method operates in an unknown feature of Airplay named Peer to Peer Airplay. This feature uses Bluetooth to mirror your phone without wifi. Make sure both devices should be disconnected to wifi.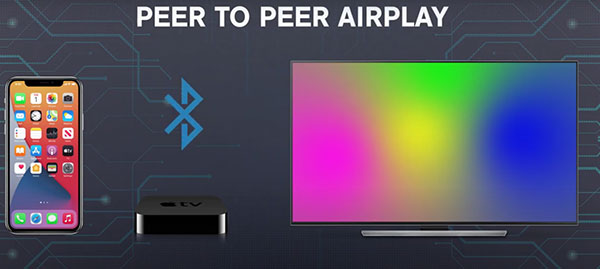 Screen Mirroring Without Wifi APk
Are you looking for an APK for screen mirroring? Yes, you can download APKPure App to display the Android phone in Miracast and find dongles. This APK is designed for Samsung smart tv, LG phone, Vizio smart tv, fire tv stick no wifi, android to Roku, android to fire tv, blu ray, android to android screen mirroring Bluetooth, sony tv Bravia apps for screen mirroring, Mira cast computer, mirroring phone images from phone screen to tv screen, anycast screen mirroring, without a wifi connection.
For this, you need a device compatible with Android 4.4.2 as well as a Chromecast compatible device. Download this APK and start playing mobile games on Smart TV
Screen Mirroring Without Wifi iPhone to iPad
Currently, mirroring the iPhone to iPad without wifi is impossible. There are two ways to mirror the iPhone to iPad using wifi:
Airplay
Apowermirror
Both of these ways need a wifi connection.
The built-in Airplay helps if you are using an iPhone or iPad operating on iOS10. For this, both the iPhone and iPad should be connected to the same server. Though it's impossible to get connected without Wifi.
Apowermirror is an amazon application for mirroring iPhone to iPad. It has a simple interface and works on all iOS devices. Though it's impossible to work without wifi.
Related Questions
Can You Cast Without Wifi?
Yes, you can cast without Wifi. For this, you need a plug-in device Chromecast. The hidden feature of Guest Mode is designed to cast without Wifi. To check whether your sending device supports this feature check Google Home App.
Can You Mirror iPhone To the TV without Wifi?
No, you can't do so without wifi. This is because iPhones are controlled by Apple. Both sending and receiving devices need to connect to the same server for screen mirroring.
How Do I Airplay to my TV Without Wifi
To do so, use the Peer To Peer feature of AIrplay. You need to disconnect wifi for both sending and receiving devices. Now connect both devices to Bluetooth. It is a wireless display. That's why it needs Bluetooth to connect both devices.
Read This Article: Is The Mirror Accurate?
Last Thoughts
This article is a detailed overview of screen mirroring without wifi. Thanks to technology, now you don't need the internet to beam whatever is on your mobile device to display on a big screen. Still, iPhone technology does not support mirror screening without wifi.
When you say I don't need a wife, you actually mean I have an alternative option. These options are Chromecast, screen Beam Mini 2 device and Miracast system. In many cases, a lightning AV adapter is also used to get connected.
What is your way to mirror the screen on another device? Share your opinion in the comment box.