Morning time is full of rush and it's quite annoying to wipe the foggy mirror when you are getting late. This universal problem can be solved by installing a fog-free shower mirror in your bathroom. An anti-fog mirror is superb to save your time because it provides you with a clear view while shaving your face, tweezing, removing makeup, or exfoliating during a hot shower.
Fogless shower mirrors are gaining much popularity because they are made scientifically with innovative technology and sleek designs to match your home decor. Not only do they ensure a clear vision but also give you a better and closer shave. No more cuts, unshaven areas, or stubborn hair on your face. Moreover, fog-free mirrors are mostly easy to install, shatterproof, corrosion-free, and durable.
However, having a fog-free mirror in your bathroom is inevitable to bring ease to your life. Beyond efficiency, the best fog-free shower mirror ultimately allows you to look your very best in the morning. This article is a complete guide to help you choose the best fogless shower mirror according to your needs and the available space in your bathroom. We have made a list of the best anti-fog shower mirrors for you.
But at first, it would be better to know the types of fog-free mirrors for better selection.
In a hurry? Let's check our overall 3 best pick & editors choice for you-
Editors Pick
ToiletTree Deluxe LED Fogless Mirror
Material : Acrylic
Mounting : TypeWall Mount
Item Weight : 1.45 Pounds
Shape : Rectangular
Assembly Required : No
Premium Pick
Fogless Shaving Mirror and Shower Head in One
Material: Metal
Finish Type: Chrome
Mounting Type: Wall Mount
Item Weight: 0.8 Pounds
Shape: Round
Budget Pick
Honeybull Shower Mirror Fogless for Shaving
Dimension: 6"L x 4"W
Mounting Type: Wall Mount
Item Weight: 4.2 Ounces
Shape: Rectangular
Brand: HONEYBULL
Top Picks of Best Fog Free Shower Mirror 2022
A fogless shower mirror can make your life more comfortable and hassle-free. No need to compromise on this basic necessity for your bathroom as some good quality and best-rated anti-fog mirrors are available at an affordable price. Now you can save your time by installing a fogless mirror in your bathroom.
Our experts have rounded up the best fog-free shower mirrors on the basis of quality, size, lighting features, anti-fog coating, clear image, compactness, portability, and customer satisfaction. The reviews of each anti-fog shower mirror along with pros and cons are listed below to help you choose the best one for you. Let's check out our top picks:
#1. ToiletTree Deluxe LED Fogless Mirror
Features:
Designed to never fog
Built-in shelf
LED Illumination
Shatter-proof
Mirror size( 9.5" x 7.5" x 1.5")
Easy to install
Are you looking for a fog-free mirror shower with a lifetime warranty to be fogless? Delux LED fogless shower mirror is best for your bathroom to conduct your grooming activities hassle-free while showering. This fogless mirror is perfect for all of your facial chores like cleansing, tweezing, and more.
This adjustable mirror is superb with LED lights and a built-in shelf to restore accessories. The fogless mirror is easy to clean with the provided squeegee. Because of its adjustable design, excellent for multiple users. Plus, high-quality acrylic is used to make this shatterproof, lighter, and safer mirror. 3 AAA batteries are required to power this illuminated mirror.
No need to use fog-free sprays because you will never face the condensation issue while using this mirror. The mirror is 20% larger than the other fogless shower mirrors. So you can get a large surface to view for makeup removal, shaving or tweezing, etc.
The mirror comes with a lifetime warranty to be fogless because it is perfectly crafted to never fog up. You only need to add warm water to the reservoir to make it fog-free. It is very easy to install or mount on your bathroom wall or door, with removable silicone adhesive.
What We Like
The best fog-free shower mirror
Strong adhesive
Excellent mirror with razor shelf
Good customer service
Superb mirror with bright lights
What We Didn't Like
Warped mirror with stretched image
Insufficient lighting
Features:
Anti-fog coating
Power full suction cup
Multi Functioning
After-sale service
Best for Men & Women
Multifunctional razor hook
Do you want an Anti-Fog mirror with a crystal clear and sharper image to maintain your beauty routine with great ease? MGLIMZ shower mirror with razor hook is one of the best fog-free shower mirrors for shaving your face or tweezing stubborn hair while taking a hot shower. 
Just pour a little bit of hot water on the mirror and forget the fogging problem. Save your time while focusing on small details and it's good to go on. This mirror has been proven and recognized by experts for its anti-fog effects. Its aluminum frame makes it durable and rust-free. The steel hook is strong enough to hang things. 
This beautiful portable mirror is easy to install with three strong and waterproof suction cups. While it can firmly fix on any smooth surface with its advanced locking suction cups. Need not worry about falling off your mirror, use this mirror with confidence.
Solve your worries by buying this wonderful mirror. This fogless mirror is absolutely the one you want for your bathroom to make your life comfortable. You can contact customer service at any time if you have an issue with this product.
What We Like
Does not fog up even at high temperature
Stronghold of suction cups
Quality material, no fog, durable
Stayed nice and clear during a hot shower
Excellent mirror for shaving in the shower
What We Didn't Like
Nice mirror but poor suction on tile wall
Sturdy but not exactly fog-less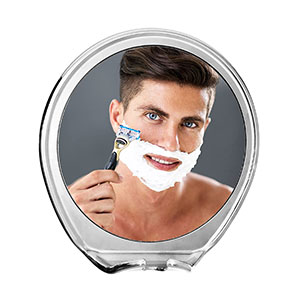 Features:
Fogless mirror
Coated with chemical
Built-in razor hook
Powerful suction lock
360-degree rotation
Modern sleek design
Are you fed up with regular shower mirrors that fog up quickly in the shower? JiBen's fog-free shower mirror is one of the top mirrors because of its unique design and 360-degree adjustable rotation. Its special anti-fog coating resists fog, best for tweezing and facial cleansing.
This modern mirror is easy to use with just one hot splash of water and easy to wipe with warm soapy water. Swivel arm can rotate easily to any desired angle to give you a better view while shaving or other facial tasks. This fogless mirror works great during the whole shower.
You can easily install it or re-position it with the help of strong suction locks that require only 3 inches of surface to get attached firmly. It would not damage your walls like ordinary silicone or tape-used mirrors.
Buy this superb mirror to make your morning routine hassle-free to get a smoother shave. High-quality plastic is used to make this lightweight mirror shattering and rust-free. The mirror offers 100% satisfaction guaranteed for 30 days. Hope you will not regret purchasing this amazing mirror.
What We Like
Best fogless mirror for the price
Good optical quality
Distortion-free image
Pretty good for shaving in the shower
Nice, adjustable mirror
What We Didn't Like
Won't stick well on the wall
Good mirror but only for 8 months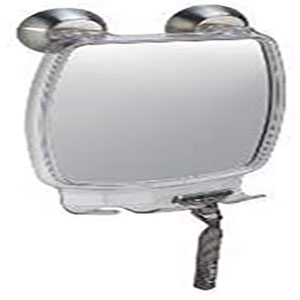 Features:
Suction shaving mirror
2 Suction Cups
2 Razor hooks
Easy to use
Size(Measuring 2.3″ x 6.5″ x 10.1)
Do you want a closer and smoother shave in a hot shower but are tired of traditional foggy mirrors? iDesign Forma fogless shower mirror is the perfect addition to your bathroom to perform all of your facial tasks with great comfort. 
The functional mirror contains two hooks for razors, washcloths, and more. The fog-free mirror is rectangular and suctions easily onto any smooth and clean surface with just one lift, push, and lock-on system of suction cups. 
Furthermore, this compact plastic mirror is durable with stylish brushed stainless steel accents to look beautiful and fresh even after long use. The crystal clear plastic of this mirror is perfect to match with any decor and your bathroom walls.
You can mount it anywhere because it is easy to use and convenient to install on your bath wall, shower wall, or on any non-porous surface. No nails or hooks are required to mount this elegant mirror. The mirror has a 90 days warranty. So don't hesitate to buy one for your shower wall.
What We Like
Excellent mirror with efficient suction cups
Good fogless mirror but a bit wavy distortion
Great for shaving in the shower
Good quality for the money
What We Didn't Like
Bad mirror, fogged-up quickly
Suction cups did not work well
#5. Shave Well Company Fogless Mirror
Features:
Easy installation
Larger design
No more suction cups
Handheld & removable
Measures (6.83" tall x 5.25" wide x1/8" thick)
Are you troubled by foggy mirrors while showering? You can't even focus on small details when you wash or shave your face. No need to be bothered by foggy mirrors, Deluxe Shave Well fogless mirrors are the ideal solution for this problem. It makes your shower routine comfortable.
Our experts regard it as the cheapest and best-rated fog-free shower mirror. This quality shaving mirror is larger, can be handheld with its valuable design. Its strong adhesive hook is more efficient than the suction cups and can stay more secure on any wall or surface.
You only need to hold this mirror under the hot water to equalize the temperature difference and it is good to go throughout your shower. This fog-free mirror can easily be removed from the wall hook, you can hold it at your desired angle to get a closer look and smoother shave.
This versatile mirror is assembled in the USA and every purchase is valuable to support adults with developmental and academic disabilities. So, This anti-fog mirror is worth buying for its price and qualities.
What We Like
Quality mirror for the price
Excellent customer service
Perfect for shaving in the shower
Easy to install, efficient fogless mirror.
What We Didn't Like
Great product but let down by a sticker
Poor quality, foggy mirror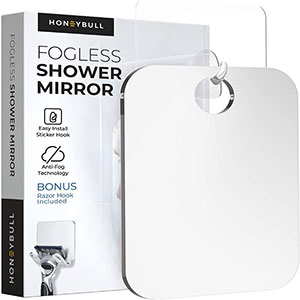 Features:
Anti-fog coating
Handy hook razor
Ready for travel
Easy installation
For both Men & Women
Do you want to enjoy a close and more comfortable shave in the shower? If so, HoneyBull shower mirror is one of the best anti-fog mirrors to provide you hassle-free shower routine whether you are exfoliating your skin or tweezing your eyebrows. This rectangular mirror is so compact that you can carry it with you anywhere.
Now you can save your time by using this fogless shower mirror because its anti-fog coating is efficient enough to keep the mirror fog-free throughout your hot showers. You don't need to put it under hot water again and again.
Our experts regard it as the best seller fog-free shower mirror. This amazing mirror is very easy to install. You can mount this mirror anywhere with the help of quick and easy command strips and hooks that are supplied with this mirror. A separate razor hook is provided to keep your razor safe, sharp, and long-lasting.
Additionally, this beautiful mirror is available in three sizes. It is portable and can be placed anywhere in your bathroom to get a smooth and comfortable shave or to carry out other facial jobs effortlessly.  
What We Like
Great mirror with a crisp and accurate reflection
Worked efficiently throughout the shower
Easy to install, worked well
Shatterproof
Best shower mirror ever
What We Didn't Like
Began to fog up after first use
Fogged up in the shower
Features:
Easy installation
Elegant design
2 in 1 mirror
Size(15.5cm X 5.7cm X 20cm)
Both for Men and Women
Aluminum alloyed
Are you looking for an anti-fog mirror with a timeless design for your bathroom? Lifei shower mirror is one of the popular shaving mirrors that easily fit every decor and is perfect for your bathroom. No more worries about the foggy mirror and messy sink.
This elegant mirror is more convenient to use, no need to warm up before every use. You can put it on any smooth wall with the help of upgraded suction cups. This 2 in 1 shaving and shower mirror comes with a razor holder. So you can hang your shaver safely.
This round mirror is superb for the whole family for shaving, removing makeup applying masks, and more. The mirror is easy to install by pressing the suction cup firmly in place on smooth surfaces and you are ready to go. Don't stick it on the tiles with a gap in between the surfaces.
You can buy a fog-free mirror without worrying about the quality. This quality mirror offers 30 days worry-free warranty. You will get a 100% refund if you receive a defective product or you are not satisfied with this fogless mirror.
What We Like
Suction cups worked well
Best fog-free mirror in the shower
No defect, very clear image
Nice mirror, powerful suction cups
Great product, low profile shower mirror.
What We Didn't Like
Dangerous razor holder
Not really fogless.
Features:
Durable & high quality
Solid metal construction
Unique patented design
Fog-free metal mirror
2 in1(showerhead & mirror)
No suction cup needed
Are you looking for a showerhead and a fog-free shower mirror? Now you can get the 
comfort of a fogless mirror while taking a hot shower by using the world's first showerhead with a built-in shaving mirror 2 in-one. This unique shower head with solid metal construction provides you with the benefits of one of the best and most reliable fogless shower mirrors.
This Award-winning, strong shower head and mirror combo will never fog up as the flow of hot water directly heats the mirror. No more foggy mirrors or condensation, no matter how steamy the shower gets. You can enjoy a smooth shave-in shower with this maintenance-free shower head.
The showerhead is made of chrome-plated aluminum, with no anti-fog coating that wears off with time. No need to spray or drain water after every use to make it clear. Just press the button to pause water flow and this fogless mirror is ready to use.
Durable and high-quality Showerhead is easy to install like other shower heads for long-lasting use. No nails, hooks or adhesive tape is required. No fear of failing suction cups. This superb shower head is the best for your bathroom to make your life effortless while showering and beauty care.
What We Like
Worked well with strong shower spray
Never fogged up, spray pattern worked great
Worked well as advertised
Well made product
Incredible customer service
What We Didn't Like
Great idea but the mirror is small
Mirror worked well but the nozzle head leaked
Things To Look For When Buying Fog Free Shower Mirror
Buying a fog-free shower mirror requires the correct information about the types of mirror, size of the mirror, attachment methods, mounting type, durability, and safety to protect yourself from any potential injury. Keep in mind your needs and some important features before buying a fog-free shower mirror.
Size of the Mirror
A larger mirror is perfect for shaving, facial jobs, and sharing with other family members. Furthermore, it provides you with a more visible area to carry out all of your tasks with great comfort. Hence small mirrors are best for small bathroom spaces and to carry while traveling. However, the size and shape of the shower mirror are determined by how you use the mirror and the amount of available space in your bathroom.
Attachment Methods
The fog-free mirrors can be mounted by using different attachments methods such as:
Rotating suction cups: Pretty simple to install, just hold it firmly on the clean smooth surface and it's ready to use. Suction cups are more efficient and secure for lightweight mirrors and on smooth walls or glass. Not suitable for the textured walls.
Adhesive strips or hooks: Self-adhesive hook is more reliable for hanging the fog-free mirror. You only need to clean the wall with some alcohol. Now peel the tape from the back and attach the hook to the wall. But adhesive tape may leave some stubborn residue when removed. Ideal for smooth walls.
Direct-pipe attachment: It is the most secure and sturdiest option but these mirrors are pretty expensive and should be installed by an expert plumber. 
Safety and Durability
While buying the best shower mirror, prefer shatterproof models to prevent potential injury or damage. A mirror can fall or break that is why Fogless shower mirrors made of plastic or acrylic are better and safer as they would not crack or shatter on falling. However, glass mirrors could risk injury if they fall. Secure and strong locking suction cups are equally important for the safest shower mirrors. If you notice that a shower mirror is sliding down or losing its grip with time, replace its suction cups or adhesive hook.
Price
The quality anti-fog shaving mirror gives you an effortless shower routine so always buy a good shower mirror to start your day with a smile. The good news is that most of the shower mirrors are budget-friendly and are in the price range of 13-30 dollars. Hence some built-in showerheads can be up to 80 dollars. Yet some reflective mirrors are pricey because of their size, heating system, adjustable rotation, lighting, and durability. However, a good quality anti-fog mirror is worth the price for its comfort and other great functions. 
Additional Features
The best fogless shower mirror is one with well-lit LEDs to help you to get your best whether it is daytime or night. Additionally, it must be adjustable to give you the best angle while doing your grooming routine or shaving your face. A quality shower mirror never fogs up, saves your time, and helps you to look your best.
Frequently Asked Questions
Are Fog Free Mirrors Good?
The fog-free mirrors are inevitable for people who prefer to do the shaving, tweezing, cleansing, and other facial tasks at the time of taking shower. A fogless shower mirror prevents the mirror from fogging up and provides you with a clear image during hot showers. It is good enough to make your morning routine stress-free and comfortable. The best anti-fog mirror remains fog-free, no need to wipe the mirror again and again.
Which is the best mirror for shaving?
1-ToiletTree Products Deluxe LED Fogless Shower Mirror with Squeegee
2- Mglimz Fogless Shower Mirror, with Razor Hook & Powerful Lock Suction
3- iBen Fogless Shower Mirror with Power Locking Suction Cup, & 360 Degree Rotation
4- iDesign Forma Suction Shower Shaving, Fog-Free Mirror with Strong Power Lock
5- Honeybull Shower Mirror Fogless for Shaving – Flat Mirror with Razor Holder  
Can You Place a Mirror in The Shower?
Yes, the best fog-free mirrors can be placed in the shower. Because you can do many tasks while taking shower without creating a mess on your sink. Plus, the heat of the shower helps to soften stubborn facial hairs or a man's beard. So you can get a smoother and more close shave and avoid accidental cuts. You can place your mirror permanently or temporarily in the shower depending on your needs and the mounting style of your mirror.
Bottom Lines
After going through the above post, you'll know all about the best fog-free shower mirrors, their types, methods of installations, sizes, price, and durability. However fogless shower mirrors are a blessing in disguise to save your time and for a stress-free morning routine. You are only required to recognize your essentials and budget.

Don't hesitate, if you want to buy an anti-fog shower mirror for your bathroom. We have listed above the top 8 best fog-free mirrors to make your life comfortable. These mirrors are carefully selected based on their qualities and other great features. The choice is yours whether you want a best-lighted mirror or the best portable mirror as your travel companion. You only need to choose one that fits your needs and your home decor as well.