It was a big shock for customers of Liquid Glass company that the company stopped its business. Once it was a renowned company dealing with paint, sealant, and wax. It has a long list of regular customers. Its sudden closure made customers restless.
In this post, you'll read the reason behind the ceased operation of this company and many more. If you have been its buyer at any time, don't skip this post:
What happened to liquid glass auto polish? The Company Liquid Glass stopped its operation suddenly. No, there is no polishing product sold under the name of this company. However, you may find the substitute of this polish with MPT Industries, once the partner of Liquid Glass Company.
Many customers have been using this polish for years. Now they are surprised about what happened to this company. The main thing that made this auto polish famous was its different and easy application from car wax. It spread quickly on the whole body of the car and haze quickly. 
What Is Liquid Glass Auto Polish
Liquid Glass is the name of a brand commonly acquired from liquid glass coating. It is a type of coating extensively used in nanoscale in 1980. This brand deals with automotive polish, wax, and finishing products. It was world-famous for manufacturing automotive polish that produces glass-like shine on vehicles.
This liquid glass Auto polish contains no wax, oil, grease, acrylic, or Teflon, and it won't crack, peel, chip, or turn yellow. It works on an amazing special formula that makes it possible to coat your vehicle with a clear, hard, smooth, and mirror-like finish that gives the look of liquid glass. It provides protection against dirt, UV rays, road dust, and other sources of pollution.
This liquid polish is recommended on all types of non-porous surfaces. It requires just one application to set well. 
                  Specification Of Liquid Glass Auto Polish 
| | |
| --- | --- |
| Properties | Yes Or No |
| Color Specific | No |
| Spray | NO |
| Freezing | No |
| Paste | No |
| Life After Opening | 60 Mon |
| Clear Coat Safe | Yes |
| Oil | NO |
| Silicon | No |
Why Everyone Buy Liquid Glass Auto Polish
What are the reasons that everyone loves buying liquid glass auto polish? There are three main reasons for buying it: easy application, oil-less formula, and long-lasting shine. It's different in application from car wax.  To apply it you need to buff in sections. Auto polish is applied simply on the body of the car and lets it haze. After hazing, it requires buffing simply with a paper towel.
Without missing even a single part, you can polish the whole car in a minute. 
One more reason for liking this polish is its long-lasting shine. It produces a mirror-like shine that will never fade with atmospheric dust. Many customers of this polish always reviewed it positively. They were very happy with this product. When the company ceased it, they were always searching for it in different auto shops. 
What Happened To Liquid Glass Auto Polish
It was the customer's favorite product. Suddenly the company ceased its production without any notification. This makes regular customers restless.
What happened to liquid glass auto polish? The original packing of liquid glass auto polish is unavailable or out of stock now. It happened because the company discontinued its production for some unknown reasons. However, you can buy the new formula from the same brand
If you search the Original version of this auto polish, you may not be able to find it. In any search engine, it will show that the company has closed its production. The exact reason for stopping its production is unknown. Some customers revealed that the company was out of business so it stopped its production.
What Happened To Liquid Glass Car Polish
Light Glass company is world-famous for manufacturing car polish. This car polish was super easy to apply. With just a few seconds you could make your car shine like a mirror. It was the all-time favorite product of customers. 
What happened to liquid glass car polish? Unfortunately, its production is closed now. The reasons are unknown. But the company has released a new formula auto polish as a better alternative to the original version. 
Still, customers are big fans of the original version. You can find them searching original enterprises on different search engines over and over. Many customers were using it for years. 
Why Liquid Glass Auto Polish Is Not Available
Almost all Liquid Glass Products are out of stock. The reason is that this company is out of business now. Its website is also down. Many brands and retailers tried to contact this brand, but they failed to do so. That's why the exact reason for stopping this business is unknown.
AutoBarn  is a famous auto retailer recorded on the site that –
"We are currently out of stock of all products of Liquid Glass Company"
The official website of Liquid Glass is also offline. So, there is no way to contact them. 
Liquid Glass Company was once a partner of MPT Industries that is still working. You can buy MPT Classic Finish with the same formula as Liquid Glass Auto Polish
Best  Alternative of Liquid Glass Auto Polish
What are the best alternatives for liquid glass auto polish? There are many other polishing products that work the same like liquid glass auto polish. MPT has released the classic finish formula which is close to liquid glass auto polish. Below is a list of the best alternatives of liquid glass auto polish.
All of the above products are almost the same as Liquid Glass Auto Polish. However, its application may require more than one coat. 
Where To Buy Liquid Glass Auto Polish
Good news: Liquid Glass Auto polish is back. Enjoy free delivery from Advanced Auto Parts. You can store it if you're worried about any blockage in its production. Yu can also buy it from the Walmart Supercentre store, AutoZone Auto Parts.
You can order liquid glass wax, liquid glass pre-cleaner on amazon. It is available in Liquid Glass Ultimate Auto Polish Finish, Liquid Tech First Finish Auto Polish, 
The New Packing is available only at Advance AutoParts. If you want to buy online, make sure you're buying advanced packing.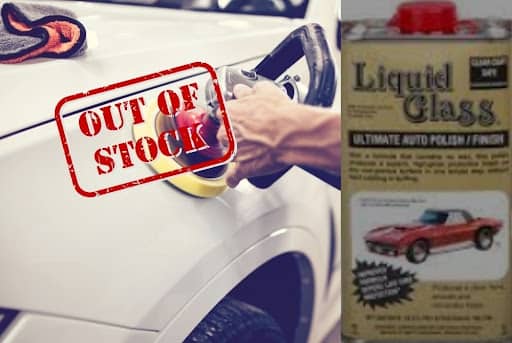 Is liquid Glass bad for Cars?
According to expert detailers, Liquid Glass is bad for newly painted cars. When you do this the solvent in the paint may not evaporate fully. As a result solvent popping can occur. It may cause a small chip in the paint. 
So beware of using Liquid glass on newly painted cars. Liquid glass expands and contracts differently as compared to paint. When liquid paint is applied to a metal surface like the body of a car, it can affect the ability of paint to contract and expand. This may ultimately result in cracks.
Never seal wax or coat a new car until 21 days of purchase. Although cars paint has to pass through the thermal procedure to seal well. But there is still some solvent that has not evaporated fully. If you apply polish on it, this trapped solvent may react badly and create cracks or chips in car paint. So wait until 2 months before polishing the new car.
Frequently Asked Questions
Is Finish first the same as liquid glass?
Yes, Finish First is identical to Liquid Glass in the application. However, it is much darker in color than later. The former is blue in color, while the latter is a bit darker. The good news is that it gives the same results as liquid glass.
The Finish First is an alternative to Liquid Glass auto polish. It is produced by a partner of Glass Liquid MPL. In a few vehicles, it may require more than one application. But overall, the results and finish of both are the same. 
What happened to Rain Dance Car Wax?
There is no such Car Wax available now under the name of Rain Dance. Before 40 years, there was one such wax, but now it is gone. However, you can still find them on eBay at a high price of $100 each.
Retailers still miss Rain Dance Car wax. You can still find Rain Dance Carnauba Car Wax on Amazon and other online retailers.
Final Lines
To summarize, there is no auto polish under the name of liquid glass available now. It might be bad news for its customers. But after reading this post, you can find a better alternative to this polish.
The name of liquid glass is still alive in the minds of customers due to its superb products. It's true that when you keep the quality of a certain product high, nobody will forget your name even after closing production. Thanks to the partner company of MPT that customers are now able to get first finish, an alternate of Liquid Glass auto polish