While walking on a track or side of the road, your phone slipped off from your hands or your pocket. OMG!
Your phone screen is damaged badly and cracked down.
What to do? 
It looks bad and difficult to work on a phone or tablet with this full of scratches screen. Don't worry!
You can get the answer to how to remove tempered glass screen protectors? In this post clearly.
Simply, it is not a difficult task to remove tempered glass protectors. You don't need a professional for this. There are some easy ways to remove a screen protector from a phone or a tablet. Turn off your phone, separate the protector from the screen with a toothpick, put a credit card in the gap, and peel off the protector slowly from the screen.
Mostly, you see tempered glass on phone screens, tablets, tabletops, washroom doors, and windows. Whenever you get scratches on it, you have to change it at once otherwise it will damage your phone screen.
Before going to a professional, read this post and try to follow the tips we have mentioned in this post.
So, let's discover the easy tricks to remove a cracked screen protector!
How To Remove Tempered Glass Screen Protector of a Phone or Tablet
It is a common trend to protect your smartphones or tablets with a screen protector. Many people like to cover their laptop screen with a glass screen protector.
But do you know, tempered glass protectors are more popular than screen protectors? Why? The reason is that tempered glass protectors are more smooth and protective. They are also easy to remove.
How? Let's see!
Step 1: Turning off Phone:
 Before removing the cracked protector, you have to turn off your phone or tablet. It is important because it will save your phone from damages.
Step 2: Separate the Corners:
Take a toothpick to make a gap between the protector and the phone screen. It will pick up the protector from all corners of the screen.
Step 3: Remove Protector With a Card:
After separating the corners, fit a credit card or a visiting card between these gaps. It will keep the pressure on the screen and help you to remove the protector easily.
Step 4: Use Duct Tape To Remove Protector:
If you feel difficulty while using the card, take a small piece of duct tape, attach it to the protector, and slowly remove it from the screen.
Step 5: Clean The Screen:
After removing the protector, take a microfiber cloth and clean the screen properly. A little dust particle makes it difficult for you to attach a new protector.
Step 6: Make Screen Dry and Soft: You can also use a hairdryer to make the screen soft, but be careful while doing this as it may heat up your phone and bring damages.
Here is a video that will help you to remove tempered glass protectors easily.
How To Remove Tempered Glass From Home Objects
There are tempered glass doors installed in modern homes nowadays. It becomes a trending fashion. If you have such tempered glass doors at your home, you often noticed that they get cracks without falling down.
Whenever you feel a need to remove the broken or cracked tempered glass, just follow the instructions given below:
Step 1: Unscrew The Plates
There are many flashes and plates used to attach the glass to the door. You have to unscrew all of them at first. Use a screwdriver set for it.
Step 2: Scrap The Glass Panel:
After loosening the plates, discard the tempered glass panel slowly. Don't show quickness as a little mistake may harm you or make you wounded.
Step 3: Put The Glass On The Ground:
Place a sheet or a towel on the ground to put the shattered glass on it. You must be careful while doing this.
Step 4: Drag The Glass: 
This is the last and final step. A little mistake can destroy all your effort. Now, drag the glass carefully otherwise it may fall down.
Replace the cracked glass with a new tempered glass.
When To Call a Professional
If you have a big door or wall of tempered glass, and you want to remove it after cracking, don't try to remove it yourself. It may be difficult and threatening for you.
To avoid any injury or damage, you have to call a professional who must be an expert in tempered glass.
Maybe he brings for you the best solutions in which there is no need to remove the glass. He must have the solution to repair the glass. And if the glass should be removed, he will do this job better than you.
So, don't take any risk and contact a skilled tempered glass professional.
How To Clean The Sticky Side of a Screen Protector 
Whenever you notice dust particles under the protector, you become annoying and try to remove them. While doing so, you may get many other particles on your phone screen.
It is a more irritating situation and causes a headache for you. So, here is an easy solution. You can try it at home easily.
Things You Need: 
Liquid Dish Soap
How To Use:
Remove the protector and place its sticky side under the running cool water.
Put a little amount of liquid soap on the protector to clean the sticky part. Then wash it.
It will help you to remove any finger stain or dust element from the protector.
Now, dry your screen with the help of a hairdryer. Don't use it only on the sticky side. Dry both sides of the protector.
In dusty rooms, your screen protector gets more particles while cleaning it. Here is a solution. Just take packaging tape and turn it in a loop shape.
Press it against the sticky side of the protector where you see particles. It will remove dust from the screen protector.
After removing all the particles, check the protector thoroughly if there left any particles or not. Now you can use a microfiber cloth to clean the screen protector.
Now, your dust-free screen protector is ready. Place it again on your phone screen and make your phone screen saver and clean.
Frequently Asked Questions
Is it easy to remove the tempered glass protectors?
No, It is not a difficult task. Just lift the protector away from the screen by sliding a card underneath. You can use a toothpick or hairdryer. A hairdryer will lose the surface by heating it and you can easily remove it.
Should you remove a cracked screen protector?
If you have a crack on your phone or tablet screen protector, you should have to remove it immediately. Because it may not protect your phone more but it can bring damages.
Is tempered glass better than a screen protector?
Tempered glass is well built than the screen protector. It is easy to clean tempered glass and it gives more clarity to your phone screen. Its surface is smooth and plain.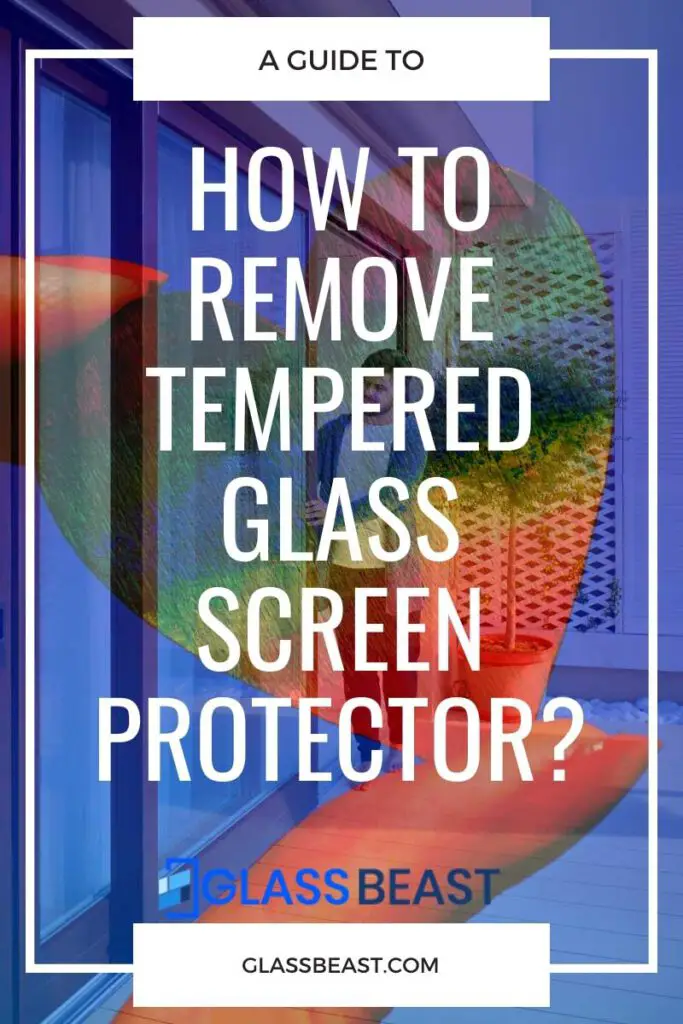 Final Thoughts
This post will enhance your interest because of its uniqueness. Now we are going to sum up our amazing post on how to remove cracked glass screen protectors.
If you have a smartphone or a tablet, you must make it save by screen protector. If you have cracked your tempered glass screen protector, read this post carefully.
I hope it has all possible tips to remove tempered glass protectors easily. Just follow the tips as they are and see the result.
Share it with your friend who has broken his screen protector accidentally.