Is there a sliding glass door in your house? If so, it can make you restless as it is unstable in the wind. It shakes and makes a noise that can disturb your sleep.
It can also make your air-conditioned rooms turn hotter quickly. Similarly, it can make your heated rooms turn cool sooner. The reason is that there is a gap between two sliding panels of doors. From these gaps, air leaks easily. If you don't fix it, a lot of energy is wasted. 
To save heat and cold air inside we need to fix these gaps. This article will mainly focus on techniques that how to fix drafty sliding glass doors? 
There are 5 easy ways to fix the drafts in glass sliding doors or windows. Firstly, install weather strips both inside and outside the door. You can also insert foaming insulations tight to ensure a seal. Moreover, draft blockers are also available. If you don't want to spend money, simply insert a rug in an overlapping area.
For a permanent solution to this problem, you will have to invest money in a few items. Though it's a one-time investment and lifetime relief. Keep reading to know the details of the products that you can use to block drafty sliding doors.
What Are Drafty Sliding Doors and Why You Need To Fix It
You might have seen glass sliding doors in the patio or windows. They are made by adjusting one sliding surface over another. As a result, they have drafts or gaps between two surfaces. This gap stops collision of the sliding portion of the glass door or window. In such doors, one side is movable and the other is still. The movable side slides over to the still side and the door opens.
They are not weather-friendly. As there is a long draft along the sliding line to facilitate the movement of the glass panel. During harsh weather, you need to fix these drafts. Moreover, if you want to keep the inside of the room hot or cold for a long time, you will have to fix the drafts also. Otherwise, heat or cold may be lost quickly.
5 Ways To Fix Drafty Sliding Glass Doors
There are so many ways to fix the gaps between the sliding surfaces of doors. YOu can use weather strips, foaming insulation and door seals. If you don't want to spend money you can simply insert a piece of rug.
Below are 5 easy ways to fix a drafty sliding glass door:
Apply Weather Strips
For sliding glass doors, applying weather stripes inside or outside the door is effective. These stripes perfectly seal the door. It will prevent hot air from escaping out and cold air from entering the room. These weatherstrips are durable and flexible. YOU can fix them according to the length of your window. Follow the instructions being cutting and adhering to the door.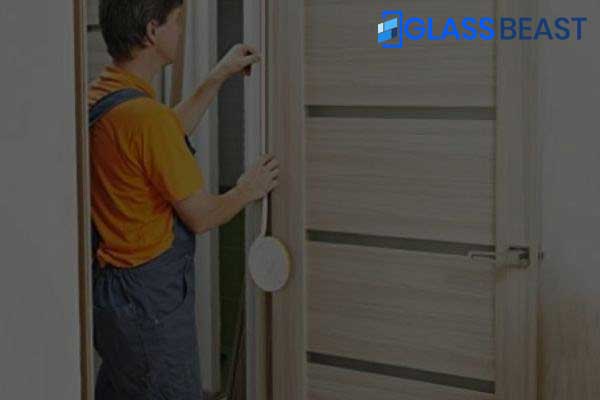 Insert Foam Insulation
Nowadays foam seal tapes with adhesive are widely available. It comes in a different size. This foaming tape delivers heavy-duty insulation and weather resistance. It also absorbs sounds, heat and shocks well. You can also buy a foaming sheet and insert it in the gaps tightly. For permanent insulation, use adhesive.
Placing Rug
This one is an old and cheapest technique to fix gaps in the sliding door. Take an old piece of clothes or woven fabric. Insert in in the gaps tightly. It is a temporary solution to avoid leakage. But it works well. However, when you open the door the rugs will come out instantly. So spend few bucks and go for a permanent solution.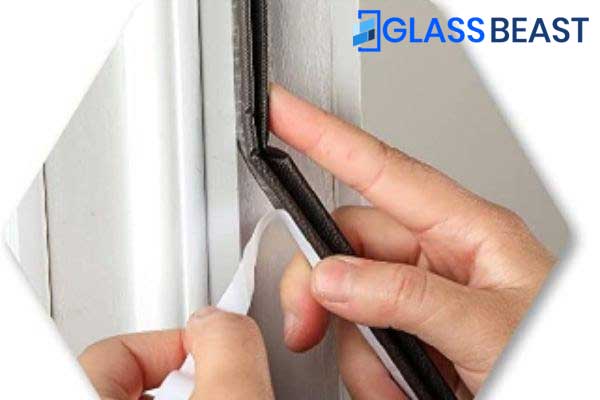 Door seals
It is better to consider glass door seals for large size doors. It fits glass thickness 1/4″, 5/16″, 3/8″, and 1/2″. You can easily cut these glass door seals. It is made up of foldable silicone material. It perfectly seals when you install it onto overlapping frameless glass doors and windows. This seal is the ideal choice for shower rooms, bathroom shower doors, hotel doors s and mansions.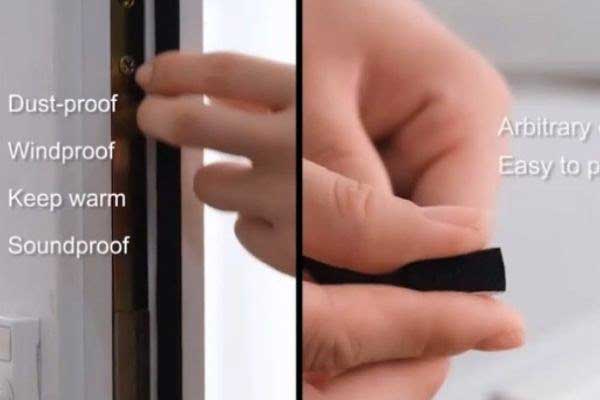 Door Draft Stopper
When sliding doors shake in wind they create noise. To avoid this problem use door draft stoppers. They also prevent cold air from getting in and hot air from escaping out. You can fit this stopper to the door using loops. Besides the heat and cold insulation, they are also helpful in reducing outdoor noise. One more good thing, you can cash these stoppers in a washing machine.
How Do I Keep Cold Air From Coming Through My Sliding Glass Door
There are several ways to keep cold air from entering under the sliding doors. Using weather strips and door sealers works effectively well. YOu can also use the following items to insulate the rooms:
Use thermal Curtains
Caulk the door exterior
Install weather stripping
Use door sealing
Apply sealing tapes
Install plastic window film
How Do You Seal The Gap Between Sliding Glass Doors
To seal the gaps between sliding dors fill the gaps with a fin seal. YOu can also use sealing tapes to avoid leakage. For weatherproofing the glass sliding doors, use draft blockers, door sealers or insulators.
How Do You Seal a Sliding Door Draft
In order to seal sliding door draft,  use weather stripes, foaming insulation, and door sealers. All these items are made to seal the area where leakage is expected. Buy these products according to the size of your door and apply. For better results apply weather shields or stripes on both inside or outside of the door.
How Do You Stop Your Scalp From Showing
YOu can style your hair in different ways to hide your scalp. You can also use hair volumizing products as well as hair fibers. Short hair cuts can also add to cover your head for thin hairs. Using head concealer and hair colors you can get rid of this issue temporarily
Final Words
Thanks to manufacturers, fixing sliding door drafts is possible. But for this, you will have to spend few extra bucks. Not only it will fix the sliding door, but it will also prevent bugs, noise, moisture and cool breeze from entering the room. So spending here is a good deal. 
Moreover, one-time spending money on the right item will provide the permanent solution to this problem. Don't forget to consider the measurement of your door before ordering any item.