As a novice, the selection of the best glass kiln for beginners will be a taxing task for you. Glass kilns are available in a huge variety. Some of them offer premium controllers and accessories, they may be electric or manual with different sizes and firing temperatures. But as a beginner, you don't need something that demands a hefty investment.
If fusing and crafting glasses, making jewelry or DIYs is just a leisure pursuit for you, then you should consider sticking to the most basic models of glass kilns. Even if you're a beginner who aims at getting professional in the future, you should not consider buying very high-end equipment at first. You can always upgrade when the time comes. There's no need to pay for the special features that you aren't going to use anyways.
For beginners, we've tried our best to separate a list of the best glass kilns. No matter if you're a beginner or trying to fire bigger pieces, these top picks will fit your needs. 
In a hurry? Let's check our overall 3 best beginner glass kilns choice for you-
Best Glass Kiln For Beginners 2023
You'll find over here a few glass kilns that are perfect for beginners. If you ever feel the need to upgrade to a high-end machine, you'll be able to do that without regretting the few bucks you spent on these very basic machines. However, we have included an option for anyone who doesn't consider a low-end kiln adequate for them.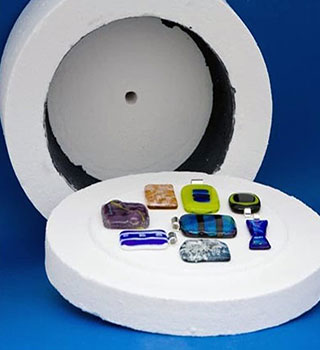 Features:
Dimensions: 8.7 x 5.9 x 8.8 inches
Weight: 2.46 pounds
Material: Ceramic fiber
Band : Hensom 
This large microwave glass kiln is a small, portable, safe, and convenient option. Therefore, it is the best option from Hensom for a beginner. It is a wonderful glass fusing tool that is around 19.5x11cm on the inner side. It renders plenty of space for firing different pieces of small crafts or projects in one go. If you're looking for the best microwave glass kiln, it's the top choice.
The temperature of the firing chamber goes up to 1650 degrees Fahrenheit (900°C) which is adequate for glassware. The whole softening and reprocessing of the glass take place in around 12-14 minutes. The time may vary depending on the wattage of your microwave. A 1100W microwave would be good enough. If you are looking for the best 120v glass kiln, it fits your requirement.
As a beginner, you can get hang of the process and timings with 3-4 tries so it really isn't going to be a big deal.
What We Like
Very lightweight
Easy to store when not in use.
Safe for newbies
It takes less space
What We Didn't Like
Kiln paper is not available with it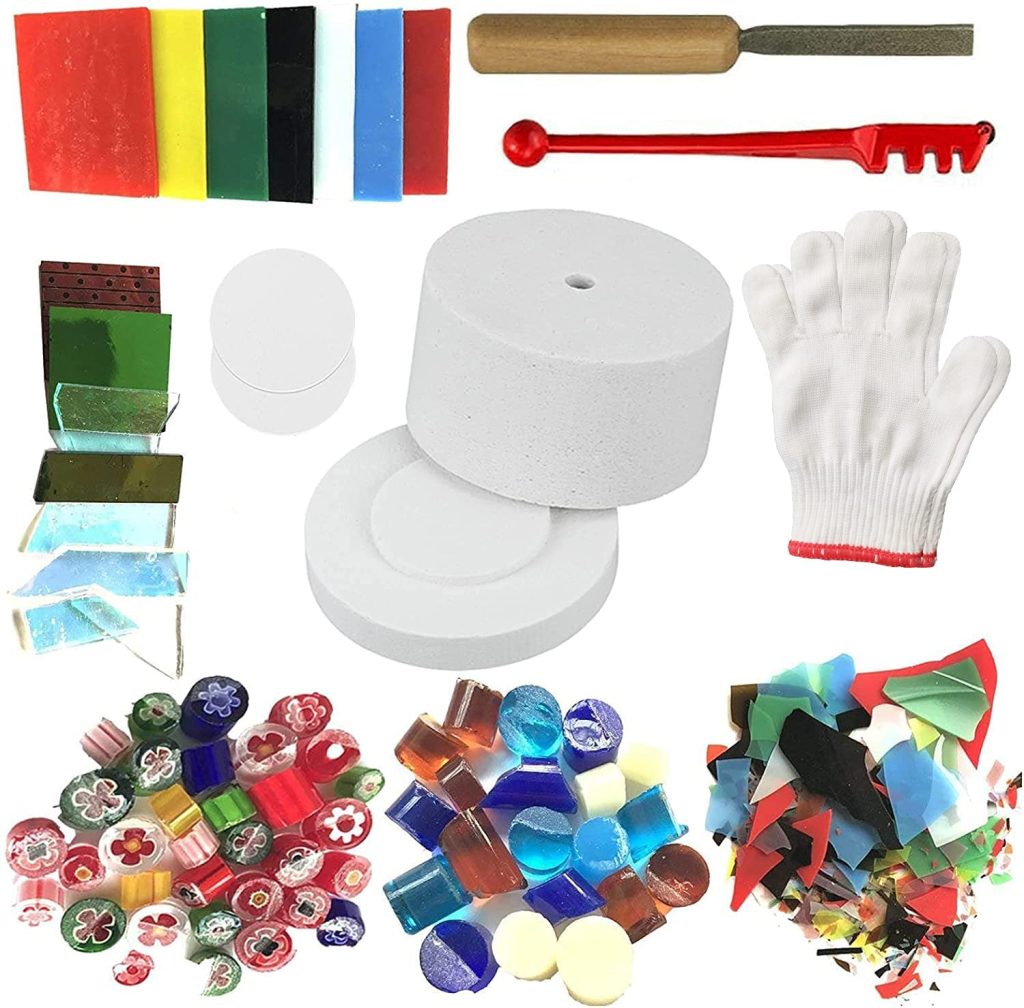 Features:
Brand : Esdabem
Dimensions : 7.7x7x7 inches
Weight : 2.1 pounds
This glass kiln is the perfect introduction to fused glass work for you. This package is everything that you need as a beginner. Besides the glass kiln itself, it comes with 10 sheets of ceramic fiber kiln paper, a glass cutter, and a pair of gloves. This makes it the best glass kiln for home. use. Not only that it also includes opal glass, millefiori glass, confetti glass, and dichroic glass, 1 bag each.
This glass kiln is the ideal tool for fusing glass while allowing you to achieve different effects on the glass. It is a relatively smaller kiln capable of housing a 1.5-inch square piece. It allows you to create pendants, earrings, fuse jewelry pieces, and embellishments at an ideal temperature.
It has a firing temperature of up to 900°C and it weighs around 0.5kg. Therefore, it is very convenient to work with. You can carry it around and fit it in a basic 1000W microwave.
What We Like
It comes with all tools
It has a firing temperature of 900C
Easy to use
Comes with kiln paper
Ideal for glass embellishment
Easy to carry
Less weight 0.5kg
What We Didn't Like
Size is much smaller not fit for professional use
Brand : Esdabem
Dimensions : 7.7x7x7 inches
Weight : 2.1 pounds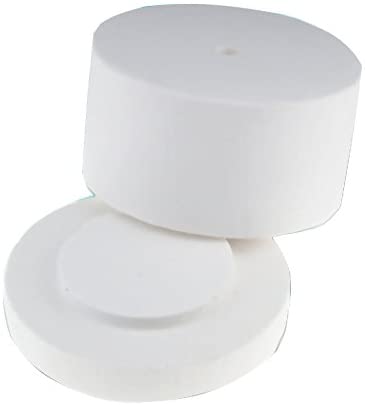 Features:
Brand : Love Charm
Size : 13.5″x4.5
Weight : 1.5kg
Meterial : Ceramic Fiber
This glass kiln is a suitable option for a beginner who needs an extra-large microwave glass kiln. It is a good option for professionals who need machines to work in the long run. Super easy to operate. You will be needing a few trials before you get a complete hold of the machine.
It is a professional-grade glass kiln and therefore, requires a fairly good amount of investment. It provides very advanced functions and controls. It has an ample amount of space for large projects. It measures around outer size:19.5*11cm, inner size:13.5*4.5cm which provides a decent amount of space for firing.
It is an ideal tool for making DIY glass jewelry and fusing it. You can also embellish it within 6 to 8 minutes.
This glass furnace weighs around 1.76 pounds so it is quite portable. If you're aiming for a one-time purchase that will work well for you in the long run, then this gotta be the one.
What We Like
Ideal for making pendants and jewelry
It has a wide inner space
It's small and compact
Its environment friendly
Its energy-saving and convenient to use
What We Didn't Like
Good for professionals only
Very costly
This professional microwave glass kiln from BHD is a well-built option for glass fusing. It is very safe and convenient to use. Therefore, it is ideal for beginners. The thermal processing of glass in this kiln is a breeze. It requires around 8-10 minutes for the single processing of glass. Not only is it cost-effective, but also saves up a lot of time.
This glass kiln is lined with a high-tech composite material that has been formulated for fusing glass in a microwave with maximum safety. The fire chamber will not provide a large amount of space but it is enough to process small pieces of glass.
The temperature of this glass kiln goes up to 1650° F. It is lightweight and easily portable. It requires a microwave with at least 1000W support. All in all, this glass kiln works really well and is a great option for beginners.
What We Like
Portable kiln with lightweight
Its inner space is wide enough
The firing temperature is high 1650 C
Easy to use for beginners
What We Didn't Like
It can only process large pieces of glass
As a beginner, if you are in search of the best electric glass oven, this product is for you. With a maximum working temperature of 2000C, it is the best glass electric kiln with a high temperature.
No need to get scared of high temperatures, it has a control system installed in it. It comes with a pre-drilled vent hole. Moreover, it has an amazing feature of thermocouples.
It can accommodate flasks as well. The size of the flask should be no more than 3″ x 5″. This flask is sold separately, not available inside the oven. This kiln is ideal for a variety of burnouts such as carvable wax, 3D resin, PLA, dental, and more.
What We Like
Electric Kiln with temperature 2000C
More advanced features
Ideal for a Variety of burnouts
What We Didn't Like
Complicated for beginners
Things To Consider Before Buying Glass Kiln For Beginners
Before you place an order for a kiln, you need to pin down your requirements. Question yourself what you want to create, what is your budget, and what you want to put in the oven. Here are a few important points you need to think about before buying one for you:
 Your Budget
Whatever you plan, budget is the basic motive to accomplish it. If you don't have enough money to spend, you should go for an oven or kiln without accessories. There are many kilns available with bundles of tool kits. If you don't need these tools you can ignore the option and chose other cheaper one.
Simplicity Or Complexity Of Machine
For beginners, complex machines are never recommended. It can confuse you first hand. So read out the operation details and burning procedure carefully before ordering one. Simple models are ideal for newbies. Never stick to complex and oversized machines.
Products YOu want To Burn
Think about your burning goals first. Ask yourself about what you want to burn and what you want to create. If you want to make jewelry search in this context as a glass kiln for making jewelry. If you have some other intention in your mind, make your plans accordingly. It will also help you to choose the size of the kiln.
What To Look For When Buying Your First Kiln
Here is the thing you need to consider when buying a glass kiln.
Firing Temperature
Glass does not require high firing temperatures which is why glass kilns seldom have a temperature over 950° C. On the other hand, ceramic kilns typically fire over 1200° Celsius. So working with a ceramic kiln for your glass is not a preferable idea. Glass kilns offer optimal heat radiation in accordance with the sensitivity of glass. The most basic models of glass kilns offer up to 1650-1700° F firing temperatures which are appropriate for you as a beginner.
Kiln Size
Glass kilns come in a few different sizes. But as a rookie, you don't need large kilns. You'll be wasting your money and space on large kilns. You'll typically be working with small glass pieces or objects so a large kiln will not be required. However, if you do plan on working with larger objects, then the kiln size is your call to make.
So before purchasing a glass kiln, give a good thought to the things you'll be firing in that kiln, and then, make a careful decision.
Application
There are multiple types of kiln available such as ceramic kiln and glass kiln. Your choice mainly depends on what you want to create in this kitchen. The ceramic kiln is different in the respect that it operates in 200 to 300 Fahrenheit. On the other hand, glass kilns cant go beyond 1700 centigrade.
So do proper research before buying. Check the temperature of the kiln. If it's not mentioned in the box, ask the shopkeeper. 
Ventilation
It's important to choose the right location to place your kitchen. If you want to set in a populated place, take care of ventilation. Otherwise, it may increase the temperature of the surroundings. In case you want to set in an open space, you need not worry about ventilation.
For beginners when not enough space is available, it is important to go for a small size kiln.
Accessories & Controllers
As far as accessories and controllers are concerned, you don't need something top-notch in that case as well. A very basic accessory set will be ample for you. Also, an electric kiln will be way too expensive and useless for a beginner. You can easily suffice with a manually controlled kiln. A manual kiln does require more effort and vigilance but it gives you the liberty to modify its settings throughout the process.
Some Glass Fusing Tips
Fusing glass is not as simple as one thinks. If you create more layers of glass of different C.E.O, it may break during fusion. When molten glass is heated it fuses when it's cooled for a few seconds. It does not require constant heating or overheating. Below are a few more tips to consider: 
Do not overheat the glass or you'll end up ruining the final product. The colors of the glass will be lost and you'll be left with some burned pieces.
Once the process is over, wait for at least 30 minutes before removing the glass from the kiln. This will help prevent cracked or broken pieces of glass.
You will not get perfect end results in the beginning. But if you keep on trying you'll get to understand the whole process and timing of glass firing. Once you get the hang of how everything works, glass fusing will be a piece of cake for you.
What is The Best Kiln For Beginners: Our Recommendation
The best kiln for beginners is one that is light in weight, easy to start, not too large, and easy to store when not in use. It also depends on what a beginner actually wants to put in the kiln. Our experts tried different kilns from beginners to professionals to pick out the best one for you.
According to them, the first choice of glass kiln is easy to use, light in weight, and safe for beginners. Let's check our final suggestions at a glance:
Frequently Asked Questions
What is The Best Glass Kiln For Home Use?
The best glass kiln for home use is a ceramic kiln. The voltage requirement for buying a household kiln is 120 volts. These kilns are available in different sizes and prices. You can choose the best one through a proper search and your requirement.
Can a Pottery Kiln Be Used For Glass?
Yes, pottery kilns can be used for melting glass. The reason is that a pottery kiln can achieve the highest temperature needed to burn glass. However, it is better to consider lid elements for fusing glass. For pottery and ceramic, you can go without considering the lid factor.
How Much Does it Cost to Run a Glass Kiln?
Rates may vary with your kiln type and electricity demands. For residential and commercial use different rates are applicable. For residential use, the cost is $0.08 (Washington) and $0.38 (Hawaii) per kilowatt-hour. For commercial usage, it is $ 0.10 per hour.
Is a Glass Kiln the Same as a Clay Kiln?
No, they burn differently. Glass kiln is made to burn a single layer starting from the top. While the clay kitchen burns multiple layers. Moreover fusing glass needs a lid element that is absent in a clay kitchen.
Is it Safe to Have a Glass Kiln in Your House?
Usually, it's safe to use indoors if you follow certain safety measures. It's unsafe in the sense that it emits toxic fumes during the burning process. Moreover if not ventilated well it can increase the temperature of the surrounding. So, it's better to build a setup in a studio.
Ending Lines
Choosing a glass kiln can be a daunting task. To make it less challenging, read the above post. For beginners, safety is the main concern. Mostly microwave kitchens are best from a safety perspective. For professional usage, you can choose our Best Kiln for Pro.
If you've any additional questions don't hesitate to write to us in the comment box. Our experts are always ready to answer.